3 Quick Ways to Feel Calmer & Relaxed Right Now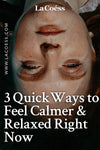 Stress can happen at any point in time, but these days, it's a 24/7 situation. Taking a few moments to yourself can offer a multitude of benefits.
Read More Natural Beauty Blogs
Our Signature Product
REVITALISÉ Nutrient Organic Face Oil
La Coéss® REVITALISÉ is a 100% pure and nourishing nutrients replenishing organic face oil. Sophisticated blends of 15 organic nutrient-dense, powerful botanicals into a silky-smooth texture delivers the exceptional power to revitalize, restore, protect and balance skin.