What You Need to Know About Facial Volume Loss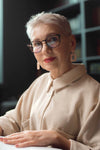 The Best Face Oil to Tighten Sagging Facial Skin
There are many reasons we love growing older. After all, we are much more confident now than in our teens. There are many things to be happy about as you get older, but you might not be as excited about how your skin looks. In today's world, where women are trying to avoid the appearance of wrinkles and fine lines on their faces by taking dubious anti-aging pills or having a series of Botox injections, "aging gracefully" is a very relevant concept. You don't have to stop caring for your skin. Let's find out about skin products that can reduce the appearance of facial volume loss and tips on how to apply them.
What Causes The Skin to Sag?
As we age, our skin's production of collagen (which are protein fibers in the skin) decreases. Skin starts to lose its elasticity and firmness. The skin contains 80% collagen. When this level starts to decrease, it can lead to wrinkles, fine lines and loose skin. Facial muscles can become weaker and the skin will sag if there is a decrease in collagen production. The skin can become loosen if it is constantly exposed to the sun's harmful rays.
What Factors Accelerate Aging?
There are many factors that can accelerate the skin's aging process. It is important to identify these factors so one can avoid them completely.
It is important to use sunscreen when you go out. The sun can damage collagen and elastin, which can lead to serious skin problems. To protect your skin from harmful UV rays, make sure you use a sunscreen with a high SPF. Consuming too much junk food and smoking can cause rapid drops in collagen and elastin levels. Insufficient nutrients: Skin can become dry and dull if it lacks nutrients like vitamin E and protein. Subcutaneous fat is also affected by rapid weight loss, whether it's through crash diets or other unhealthy methods. This means that the skin can become looser. Sugar overuse: A reduction in sugar intake will make a huge difference to your skin. Insulin spikes due to high levels of refined sugar can cause inflammation, which causes premature aging, skin wrinkles, and uneven skin tone. Eye bags are a sign of increased stress. They can lead to sagging skin under the eyes. This can also lead to sleep deprivation and dehydration as well as reduced blood flow to skin.
RELATED: Powerful Anti-aging Foods That Are Better Than Botox
What Are the Signs of Aging?
Dry patches on the skin
Fine lines
Age spots
Hyperpigmentation
Loose skin
Sagging skin
Can Oils Tighten and Firm Skin?
Some facial oils, such as La Coéss REVITALISÉ Nutrient Organic Face Oil, can be used to increase collagen production. They also tone the skin and nourish it with the right nutrients. Regular use of natural oils can help reduce wrinkles and fine lines. They also improve skin's glow and appearance. Facial oil is a great way to pamper your skin, and it's suitable for all ages.
Anti-aging is not just about reducing wrinkles. It may be worth considering addressing facial volume loss. This serum can restore skin's youthful appearance and fullness. Each pump comes with a precise dose delivered by the dropper. With hyaluronic acids, the serum helps to boost your skin's hydration and increase the appearance of fullness under your eyes and cheeks with continued use. Apply a few drops to your skin every morning and night. Concentrate on specific areas until the serum is fully absorbed. For best results, follow up with the moisturizer below.
The Sweeping Method with Gua Sha for Aging Skin
You might want to do more with your hands than your fingers in your daily life. There are many tools that can be used to make your life easier, such as crystal rollers, sculpting bar, and gua sha stones. You can choose the one that feels right for your needs. A facial massage tool has a major advantage: it cools down and helps to reduce puffiness, especially in the morning. Before you start your massage, place your tool in the refrigerator or in a bowl of chilled water. On a hot summer day, a cold tool can be gently massaged under your eyes.
Facial massage is performed by aestheticians using a mixture of downward and upward motions. Both directions stimulate blood flow and oxygenation to the skin. However, the downward massage helps to drain water retention. You can warm some tools by placing them in hot water. Warmth combined with a light touch can help to ease tension and headaches caused by sinus congestion.
RELATED: The Inside-Out Glowing Skin Essential You Need To Know - Gua Sha Beauty Tool For Skin
Gua Sha Facial Massage Directions:
Apply the Face Oil to your skin. Hold the jade gua sha up from your chin and move along your jawline. You should do at least five to fifteen strokes on each side (or more if necessary) before you move onto the next area.
You can move up and continue the motion starting at the corners of the mouth and moving towards your ears. Next, you will go from the sides to your ears and then to the sides of the nose. Finally, you will move from your temples to your ears using broad strokes.
Continue to sweep upwards, starting at the cheeks. Next, move your fingers just below your eyebrows and then up towards your forehead.
Will an Oil Massage Cause My Skin to Break Out?
It's best to only add or change up one thing if you're just starting out in the world of rejuvenating facial massaging. This rule applies to all products, so it's a good guideline for beauty. If you do it correctly -- use clean hands, gentle massages, and skin-friendly oils - it's very unlikely that you'll get glowing skin.
RELATED: Can the Aging Process Be Prevented? 6 Proven Anti-Aging Tips of All Time
Read More Natural Beauty Blogs
Our Signature Product
REVITALISÉ Nutrient Organic Face Oil
La Coéss® REVITALISÉ is a 100% pure and nourishing nutrients replenishing organic face oil. Sophisticated blends of 15 organic nutrient-dense, powerful botanicals into a silky-smooth texture delivers the exceptional power to revitalize, restore, protect and balance skin.