4 Tips To Make Your Face Oil Absorb In Faster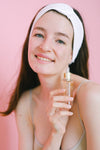 The Right Way To Use Face Oil To Increase Skin Penetration
One rule applies to treating your skin which is with respect, love, and care. Take care of and work with your skin. The skin-similar active ingredient will be almost identical to the one your skin is already using. The best skincare routines use both skin-identical actives and skin-similar actives.
Is It Good To Put Oil On Your Face?
Your skin has distinct layers. This layer can become problematic and cause acne, eczema, or dermatitis. The stratum corneum is the name of this layer. This is the layer you can see. It is almost entirely oil-based at its highest point. It is made up of ceramides, cholesterol, and fatty acids. These three ingredients are all oils and fats. It is a good idea to apply oil to your face. Face oils are the only step in skincare that is completely skin-like to your skin's most important and top layers.
How To Make Your Face Oil Absorb Into The Skin?
Tip #1: Choose the Right Oil
Natural actives rich in fatty acids are oils. A scientific way to describe an oil is by using fatty acid. Or what is in that oil. Fatty acids are the first ingredient in all oils. Most oils that you use on your skin contain Oleic acid and Linoleic acids. This is an essential fatty acid that your body cannot make. Oleic acid is thicker, stickier, and takes longer to absorb. Linoleic acid, on the other hand, is more fluid and thinner. Linoleic acid absorbs faster.
What oils are the most readily absorbed by the skin? Linoleic high oils such as rosehip, grapeseed, and evening primrose oil. Our La Coéss REVITALISÉ Nutrient Organic Face Oil is full of high linoleic rosehip oil and other nutrients.
Tip #2: Moisturizer After
Have you read our Journal - – Should You Apply Face Oil Before Or After Moisturizer? We all know the basic rule of skincare layering: Lightest first, Thinnest last. But if you want faster face oil absorption – break this rule now.
Moisturizers have actives that help oil and water mix. These same actives allow skincare to penetrate deeply into the skin. This is your new routine: Cleansing - Face Oil - Moisturizer.
Tip #3: Exfoliate
Your skin's top layers are dead. These skin cells are resistant to absorption and barrier-forming. These layers may become less prone to shedding as you age, and can stay on your skin longer. They also shed more quickly in summer than they do in winter.
Winter is coming and your skin may need more help. How can oil be absorbed into the skin? Before applying oil to your skin, exfoliate. Fewer dead skin cells make for faster absorbing face oils.
Tip #4: Massage Method
Face oils work well for all skin types, as your skin can't exist without oil. All skin types have oil-based top layers. Your skin's natural oils will quickly adhere to your face oil, so don't apply it until you are done. It is therefore difficult to apply the oil evenly.
Use 3-8 drops of our Revitalisé Organic Face Oil in your palms to evenly apply to your face. Use a clockwise and upward motion to massage the oil onto your face, neck, and décolleté. This method may even reduce the amount of oil you use.
These tips will make your face oil absorb faster, more quickly, and more evenly. There are fewer obstacles between you, your bed, and the world. Better benefits for your skin. Do you have a tip to help the oil absorb into your skin? Please leave them in the comments box below.
Read More Natural Beauty Blogs
Our Signature Product
REVITALISÉ Nutrient Organic Face Oil
La Coéss® REVITALISÉ is a 100% pure and nourishing nutrients replenishing organic face oil. Sophisticated blends of 15 organic nutrient-dense, powerful botanicals into a silky-smooth texture delivers the exceptional power to revitalize, restore, protect and balance skin.