Top 8 Sunscreen Dos and Don't You Must Know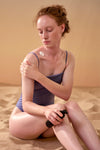 SPF Dos and Don'ts You'll Wish You Knew Sooner
Sunscreen is something that many people associate with going to the beach and outdoor activities. However, it's important to include protection in your daily routine. You can help prevent skin cancer by keeping your skin healthy and looking youthful. Before you start applying sunscreen or any other sun protection products, here are some do's and don'ts things to remember.
DO: Check the ingredients
Before you buy a new sunscreen, make sure to read the entire ingredients list. Look out for ingredients such as zinc, titanium dioxide and avenobenzone. These powerful UVA blocking agents that are remain on the skin surface instead of absorbed into the skin. Do not choose products that contain ingredients that could affect hormones or potentially carcinogenic, such as oxybenzone, insect repellent, and vitamin A (retinyl Palmitate).
DON'T: Be fooled by sunscreens with high SPF
Avoid spending money on sunscreens that claim to have an SPF of 60 or higher. For the best protection, stick to sunscreens with SPF 30 or 50. A sunscreen with an SPF 60 or higher doesn't always block harmful rays as effectively. You should look for sunscreens that offer protection against UVA and UVB radiations.
DO: Use a broad-spectrum sun protection
You should always choose a sunscreen with broad-spectrum protection against both UVA and UVB rays. This doesn't mean you don't need to reapply every day. Even waterproof sunscreens eventually wear off. All sunscreens can easily be rubbed off with towels, sand and clothes.
DON'T: Apply SPF just once a day 
SPF should be part of your morning routine. However, you should apply SPF at least every few hours a day to ensure optimal protection. Although this is not always possible for makeup-wearers, there are many great options for SPF reapplication that won't harm your entire face. You can use a powder or spray SPF to protect your makeup and set it.
DO: Know your dosage
Does it mean that you can use less product if the product description says it has SPF50? No. Remember that the SPF rating test is usually performed by a lab technician who applies a certain amount of sunscreen. This means that you must apply at least the same amount to reach the SPF rating of your sunscreen.
Experts recommend that you apply at least one dessert spoonful sunscreen. If necessary, add more sunscreen. Your lips, eyes, ears, and lips should all be covered. Protecting your entire face is important. Adults need approximately 1 ounce, which is equivalent to a shot-glass. This is the minimum amount you should apply to cover your entire body.
DON'T: Use or keep expired sunscreen
The myth that sunscreen doesn't expire is one you should not believe. Make sure you check the shelf life and expiration dates of your sunscreen. Do not save your sunscreen for crazy deals.
Side note: Sunscreen stored in high temperatures can cause active ingredients to lose their skin-protecting properties and accelerate expiration. Keep this in mind if you're about to use a product which has been sitting on the shelf for a while.
DO: Apply at least 15 minutes before going outdoors
People apply sunscreen while they are already on the beach or in other outdoor locations. It actually takes time for sunscreen to penetrate the skin and activate the sun protection. To ensure the most effective protection, apply sunscreen at least 15 minutes before you go outside. Make sure to keep sunscreen close to where you are going to be wearing it. Remember to apply sunscreen to your neck, ears, and scalp. These areas can be easily overlooked.
DON'T: Solely rely on makeup as your sun protection
While some believe that SPF in makeup can protect your skin on a daily basis, dermatologists recommend applying sunscreen underneath makeup for more sufficient protection. To achieve the SPF level desired, you need to use a certain amount of SPF. This means that you must load up your makeup in order to protect your skin. However, most people don't use such thick makeup every day.
RELATED: Do You Need To Wear Sunscreen Indoors?
Read More Natural Beauty Blogs
Our Signature Product
REVITALISÉ Nutrient Organic Face Oil
La Coéss® REVITALISÉ is a 100% pure and nourishing nutrients replenishing organic face oil. Sophisticated blends of 15 organic nutrient-dense, powerful botanicals into a silky-smooth texture delivers the exceptional power to revitalize, restore, protect and balance skin.