Simple Self-Care Practices You Can Do When Life Feels Chaotic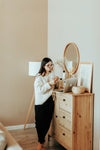 With everything going on in the world right now, self-care may not be high on your priority list. But it should be. There's no denying that we're experiencing a sense of uncertainty quite different with we've ever experienced before. So it's especially important to start applying these simple rituals to bring your life back into balance.

"You yourself, as much as anybody in the entire universe, deserve your love and affection."
- Buddha

Create An Hour Of Power
Working from home? Use the time saved from commuting to do something that calms your mind and body. Starting from making a list of activities that feel restorative to you. A walk outside, a morning stretch, meditating, baking, drawing, organizing your closet, listening to a podcast, delving into your favorite book or anything else you enjoy that alleviates stress are all soul-nourishing rituals to make you feel good.
Edit Your Stuff—Edit Your Mind
Our environments affect how we feel. If you've ever cleaned out a stuffed closet in your home and felt an incredible surge of satisfaction, you've experienced the benefits of declutter.  "Negative emotions create stress and tension in our body and show up in a variety of ways, cleaning your space creates a palpable sense of clarity and certainty," mbg said. The best way to identify if you need start decluttering is ask yourself, "Does a particular item bring about negative or positive feelings?" Or you can ask the classic Mari Kondo question. Does the item spark joy?

Boost Your Beauty Ritual
The mindful moment during your daily skin care can make all the difference! If you normally rush your skin care routine before running out the door, take this as an opportunity to slow down and enjoy the moment. Adding a step of facial massage to your skin care routine, you can stimulate the lymphatic system increase the blood flow of skin which brings more oxygen and nutrients for skin. Check out how to give yourself a at home facial massage.
Nourish Your Body and Skin From Inside
Feed your body and skin with fresh fruit and colorful veggies is more important than ever. A nutrient dense diet can help reduce the body inflammation and heel damaged tissue, eating well is probably the best way to look after yourself. Why not use the extra time at home as an opportunity to experiment with some body-nourishing and immune-boosting recipes?