How To Pick The Best Face Oil for Your Skin [Infographic]?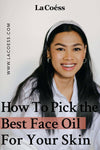 Oils have become increasingly popular because they provide a natural way to take care of your skin. Not all oils are equal though. When choosing a product to best suit your skin needs, you'll want to keep in mind what to look at when pick the best face oil for your skin. We've come up with 3 rules when choosing the best face oil explained in an infographic.
Read More Natural Beauty Blogs
Our Signature Product
REVITALISÉ Nutrient Organic Face Oil
La Coéss® REVITALISÉ is a 100% pure and nourishing nutrients replenishing organic face oil. Sophisticated blends of 15 organic nutrient-dense, powerful botanicals into a silky-smooth texture delivers the exceptional power to revitalize, restore, protect and balance skin.