How To Improve Your Skin Texture, Tips for Smoother Skin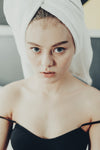 We all want smooth skin, but the reality is that most of us experience uneven skin texture. From hormonal acne to skin discoloration to sunspots, we always find ourselves fighting to maintain a healthy-looking smooth skin. So, if you're looking for the key to smoother skin, read below for 6 simple steps to improve your skin texture.


Some Causes of Rough and Uneven Skin
1. Acne and Acne Scarring
If you're used to picking the acne scars on your face, the chances of it emerging on your complexion are high. As the scars begin to heal, your skin releases a kind of response to fix the damaged tissues. This stops the structure and the production of collagen, thereby preventing scars from surfacing on the skin. This is usually seen mostly when boxcar or ice picks decides to surface on smooth skin.


2. Dryness

Dryness of skin is one of the most common causes of uneven skin texture. Dry skin is a result of a shortage in the supply of lipids and oil, which act as lubricants to the skin and also help in keeping the skin moisturized. Deficiency of the adequate moisture is one of the reasons why dry skins find it hard to properly shed its cells. This leads to the build-up of dead skin cells on the skin surface, which makes the skin appears dull, rough and flaky.


3. Aging

As you get old, the store of collagen hyaluronic and elastin on your skin starts to diminish. Also, the skin cells find it difficult to turn over quickly, which in turn makes your complexion dull and rough. Without providing your skin with the required support, you might begin to notice signs of wrinkles.
 

4. Environmental Factors

One of the factors that contribute to dull skin and less smooth skin is "sun". Due to the years of exposure of our skin to the sun, it may begin to release some kind of cumulative effect. The damage of our skin by the sun can show up as brown spots, like age spots, as freckles or even as hyperpigmentation. Pollution and bad health habits also contribute to the loss of skin elasticity and large pores.


Six-step Guide to Smoothing Out Your Face And Improve Its Texture

Step 1: Find Your Basics

If you have any type of irritation, redness, rash, breakout, or excessive dryness or oiliness, for a week, pare back to the basics - this refresh will help make sure it's not caused by a product. Use a gentle cleanser and moisturizer that don't contain fragrance or treatment ingredients such as vitamins, acids, anti-agers, retinol, or skin brighteners. After the reset week, it's safe to assume the remaining skin issue are not cased by these basics.


Step 2: Wear Sunscreen

Making use of sunscreen as a means of protecting yourself is very important. "People think of sunscreen as protective, but it's also corrective," explains Dr. Engelman. "In studies where people applied sunscreen regularly, the degree of aging slowed and hyperpigmentation decreased. It was truly miraculous." That means SPF is the best anti-aging treatment you can use for your skin. When it comes to how viable the sunscreen is, research has shown the 73% of sunscreen doesn't work. It has also been discovered that most sunscreens contain ingredients that can cause more harm to the skin. It's important to use sunscreen that give your skin adequate defense from both UVA and UVB rays.
 

Step 3: Exfoliate

It's no news how important it is for one to wash the dead skin cells away – at least once every week, using an exfoliant either chemically or mechanically. The main goal is to look for an exfoliant that is not harsh enough to cause any form of harm (production of excess oil and micro-tears) to your skin. "Cleansing and mild exfoliation can give skin a smoother, more radiant appearance by removing dead skin cells on the surface and allowing light to reflect from the skin," explains Dr. Soohoo. Double-cleansing is a good way to make sure you remove all traces of pore-clogging dirt, grease and makeup without the risks of over-washing and drying out your skin.


Step 4: Hydrate Your Skin From Within

Improving the texture of our skin can be just as staying hydrated all through the day since a moisturized skin helps in making the skin very smooth. A moisturized skin also helps in reducing the appearance of a dull skin which is a common sign of uneven skin. "The more water you drink, the more hydrated and plumper your cells become. The metabolic processes inside the cells can work most efficiently," Dr. Guanche says.


Step 5: Use Vitamin C

Vitamin C is an ingredient that shouldn't be ignored if you happen to need your skin protected from damages caused by environmental factors and lead to dull skin. Vitamin C helps improve the skin's texture by repairing and defending the skin from environmental damage while reducing pigmentation, scar tissue and age spots. Vitamin C also helps in boosting the skin brightness and at the same time reduces the lines and wrinkles on your skin.

Step 6: Start Using Facial Oil

This sounds counterproductive from what has been previously discussed, but using facial oil can go a long way in stopping our skin from producing excess oils – thus making it supple, yet balanced and ultra-smooth. Search for a facial oil that contains antioxidants that helps in fighting against environmental pollutant and at the same time deliver the moisture needed for smooth skin. If you're in need of balance or extra moisture, try incorporating face oils into your nightly skincare regimen and wake up with silky-soft skin.