5 Simple Ways To Look After Your Hands - While Following Washing Guidelines During COVID-19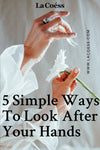 We all know that "washing your hand" is the main guideline to follow with the COVID-19 outbreak. However, washing your hands more than usual and using anti-bacterial gels can cause dryness and irritation, so here's how to take care of your hands while still following the washing guidelines.
Fount this post helpful? Don't forget to share on Pinterest!