4 Types of Anti-Aging Ingredients Your Skin Simply Can't Go Without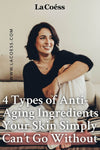 Your skin needs ingredients that support and maintain its resiliency, counter signs of environmental damage, and replenish it with ingredients that young skin has in abundance. Let's go over the four types of ingredients we consider must-haves for aging skin!
Read More Natural Beauty Blogs
Our Signature Product
REVITALISÉ Nutrient Organic Face Oil
La Coéss® REVITALISÉ is a 100% pure and nourishing nutrients replenishing organic face oil. Sophisticated blends of 15 organic nutrient-dense, powerful botanicals into a silky-smooth texture delivers the exceptional power to revitalize, restore, protect and balance skin.