6 YouTubers Who Join the Anti-Racism Movement to Follow and Support #BlackLivesMatter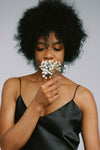 The Black Lives Matter movement began in response to a call-to-action of the police violence and acceleration of anti-Black racism in the U.S., and now it's a global initiative that confronts racial inequalities after recent deaths in the society. The movement includes injustices in the environment, biasness in the education system, and threats of racism in public health.

Among the many organizations in place, these 6 YouTubers have joined the anti-racism. For an action to support the Black Lives Matter movement, they have been speaking out on anti-racism, join them on YouTube by clicking on their links and other respective platforms mentioned. Ensure to participate in this course of creating positive change in the human race of equality.
The well-known content creator of the Wear I Live YouTube channel focuses on sustainable fashion and ethical issues. She has earned over 250,000 subscribers through her thrift hauls, veganism, lookbooks and cruelty-free beauty.
Jenny expresses herself on the YouTube video "How to Start Being Anti-Racist for White People #blacklivesmatter" stating how one can start being anti-racist. She continues to say so many things can get done despite not having a precise resource. Still, her talk will give the breakdown of why it matters for people to start a conversion and need clarification on the ongoing racism issue. The YouTube channel is available for more information, and check out Jenny's social listed below.

YouTube    |    Instagram    |    Twitter    |    Tumblr
Joanna Franco is a Brazilian-American travel blogger and vlogger who is also a known YouTuber alongside Damon Dominique from DamonAndJo. She is a writer and creator for the Shut Up and Go-travel blog. Since the creation of the YouTube channel Jo Franco in 2019, it has gained a total of 89.3k subscribers to date.  Joanne speaks Spanish, English, French, Portuguese and Italian on her channel. Her post about the Black Lives Matter - "Let's talk about RACE and how to be an ALLY" indicates how she is fed upon the race issue and the injustices and wants everyone to join her in talking about it openly. She puts the necessary resources that will educate people and organizations on their donations to support the movement. Access her YouTube channel to carefully listen to Jo and get the resources necessary she gives.

YouTube    |    Instagram    |    Twitter    |    Website
Jade is an English vlogger who talks about self-confidence, veganism, academia and more topics on her YouTube channel. Her 440,000 subscribers have earned her insights on the platform. She speaks out on her YouTube channel about how people should research and recognize the problems that are facing by black people. Jade shares some resources on her video - "
but i'm not racist?
" that will help you get familiar with the Black Lives Matter movement and listen to the black voices. She points out to the white people who don't understand and accept the need for equality and understanding of the racism topic. Her YouTube space gets meant to defend "all lives matter," and now it's about black lives. Follow to get more information on the topic and resources of black lives.

YouTube    |    Instagram    |    Twitter    |    TikTok: @unjadedjade
Greta is well known for her role as an actress in the famous television series "All American". Apart from featuring in other films as well, she has a YouTube channel that has over 302k subscribers. The Russian actress speaks both English and Russian fluently. She uses her YouTube channel to address Black Live Matter on her video - "
black lives matter (watch to donate for FREE)
". She asks people to start contributing without fear on engaging in the conversation, read books and make donations to the movement. There are different resources shared on the YouTube channel. "You can't do everything, but you can do something because everyone's voice counts." Use the given channels below to act on the current issues of racism.
Immy is a YouTuber who strongly advocates for zero waste lifestyle and veganism on her vegan, sustainable channel. She offers tips and recipes on one's reduction of environmental footprint, and the assorted vlogs have over 11 million views. Immy offers her insights on the Black Lives Matter issue (on video - "It's not enough to be 'not racist ") that is ongoing and has decided to use her platform channel to ask people to stop acting silent. They should voice out the current problems which are even worse in the U.K. Racial injustices have been going, and it's time people need to stand up and act for change. Her platform has various shared resources and books about the topic. For more information, follow Immy on her social platforms below and check her video on YouTube.
YouTube
    |   
Instagram
    |   
Website
    |   
Patreon
Kristina Braly is a YouTube vlogger of beauty and lifestyle. Her self-titled blog that accompanies' her YouTube channel has attracted thousands of fans who love her content on beauty, daily life and fashion. She has a story that highlights ways of uplifting the black voices, businesses and requests advocating of people in solidarity. Everyone should support the Black Lives Matter movement until the social injustices get addressed. She aims at educating everyone using her platforms, and she has offered several resources that can get used to providing further education and donation contributions to the movement. Follow the YouTube link below to watch and listen to the information given by Kristina.
YouTube    |    Instagram    |    Twitter    |    Website