6 YouTubers To Inspire And Motivate You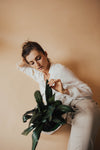 The Best Lifestyle & Productivity Inspiration
While on the path of self-improvement and change in lifestyle, you'll often find yourself in need of inspiration. In the past, books used to be everybody's go-to resource, but these days, you can get the best motivation from YouTube instead. No matter what you need for your personal development journey, you can get it from these YouTube channels.
By subscribing to Pick Up Limes you are joining the movement towards better health, because on this channel you will find uncomplicated, informative videos, as well as simple and delicious vegan recipes (most are  gluten free) made with natural ingredients, vegetables, fruits, whole grains, whole-food and healthy fat sources, that help to nourish the cells and soul. Sadia tries to show us that if you can take ownership of your life and learning how to love the process, results will surely follow.
 This popular YouTube channel is hosted by Aileen, a content creator and entrepreneur. Aileen describes herself as an artist of life, and the Lavendaire channel is about personal growth and lifestyle design, and was launched in 2014. By subscribing to Lavendaire you can find practical, inspirational, and thoughtful content to help you become your best self and create your dream life with confidence. By watching these videos, you nurture your mind and soul, open your heart, and become inspired and empowered to action.
On this channel, Rachel creates an engaged and evocative atmosphere through her talks on minimalism, zero waste, and intentional living. Rachel's philosophy is that life is complicated, and the idea of decluttering or simplifying can feel seriously overwhelming to most, which, is the last thing we want when we are actively trying to reach a less stressed version of ourselves. The videos are always loaded with quick wit and touches of humor create a light and fun atmosphere during her presentations.
When it comes to travel and fashion field, Mimi Ikonn is one of the biggest names you'll find. Mimi built an incredible audience around fashion, travel, and lifestyle. Apart from creating content for her amazing audience through YouTube and Instagram, she is the co-founder of Luxy hair, one of the world's biggest provider of premium hair extensions. Mimi also has co-founded Love Hair, who provide hair care products that are natural, effective, and sustainable. She's living the dream and so should you.
This channel is hosted by Anna Newton who is an award-winning online content creator, who has fronted her blog and YouTube channel 'The Anna Edit' since 2010. Bloglovin has ranked Anna's blog as the 5th biggest in the world in the lifestyle category and Anna's been featured in Grazia, Stylist, YOU, Metro and The Guardian.
If you are searching for productivity YouTube channels that offer concrete life-improvement tips, you should hit subscribe on MuchelleB's channel. Muchelle is also into minimalism, and she offers recommendations on how you can simplify your life and grow. Watching her videos is almost exactly like chatting with a friend. On her channel,  Muchelle shares her experiences that are oh-so-relatable, inviting you to laugh and feel with her.