3 Best Tips You Need To Know About Moisturizing Mature Skin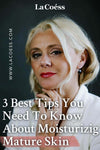 Dealing with dry, mature skin can be tough. That's why using the best moisturizing products for mature skin is a must, since the right offering can provide lasting hydration to help make those concerns less visible. We're sharing 3 best tips you need to know about moisturizing mature skin, including how to find the best face oil for aging skin.
Read More Natural Beauty Blogs
Our Signature Product
REVITALISÉ Nutrient Organic Face Oil
La Coéss® REVITALISÉ is a 100% pure and nourishing nutrients replenishing organic face oil. Sophisticated blends of 15 organic nutrient-dense, powerful botanicals into a silky-smooth texture delivers the exceptional power to revitalize, restore, protect and balance skin.