15 Underrated Lifestyle YouTubers You Must Not Miss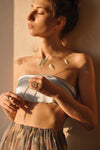 Underrated Lifestyle YouTubers We're Loving Right Now
Let's talk about the bright and enthusiastic people who are doing so much to lighten up our life — The YouTubers. Here is a list of the most hardworking yet not-so-acknowledged YouTubers from around the world.
A certified Nutritionist and a Digital Markitist by profession, Christina Tsiripidou is the health coach you've been looking for. Knowing it all about how nutrition affects health and particularly skin health, Christina can help you mold your daily routine to the best. To create awareness about the importance of self-care, she is creating abundantly informative content through digital media. She provides a perfect balance of content related to physical and mental health. Her easy and super healthy recipes along with the tips to improve one's relationship with oneself, Christina's YouTube channel is a must-watch. For all these amazing tips and tricks go check out her channel Right Now!
Youtube     |       Instagram      |      Pinterest     |     Blog
The ever-enthusiastic Amber is a true Story Chaser. In the pursuit of living her dreams, she left everything behind and went on the journey of self-love and satisfaction. From being a Director of Accounting at a private firm to living a nomad life, Amber has come a long way. Overcoming the stereotypical perceptions of society and fear of being left alone, she is living her life to the fullest. If you also want to explore the culture and life of America then Amber's YouTube channel is a must-watch. Varied yet balanced content is just a click away!
Youtube     |       Instagram      |      Pinterest     |     Blog
Happiness is what she spreads, Kate Morris the fashion and lifestyle influencer you dare not miss. If you are looking for entertaining yet informative content then here you are. Kate's YouTube channel keeps you informed about the latest trends in fashion, beauty, and lifestyle. Her happy-go-lucky vibe will brighten up your day. She creates short videos helping you dress up in several different trendy ways. She is also there to help you design a skincare routine just according to your skin type. So what are you waiting for? Go check out her YouTube channel Now!
Youtube     |       Instagram      |      TikTok     |     Vlog
A young fashionista, Jordan is all set to take you on a roller-coaster of fashion, thrifting, and vlogging. She is here to help you create one of the trendiest looks. She's going to tell you all from the outfit to the makeup, helping you create a super classy look. And if you are a bit confused about which skincare products to go for, don't you worry. Jordan's YouTube channel will help you get the best products according to your skin type and texture. So what are you waiting for? The world of beauty and fashion is just a click away!
Youtube     |       Instagram      |      TikTok     |     Poshmark
After watching all the stressful and serious content from around the world, Chelsea Li is here to detox. Chelsea's YouTube channel is just as vibrant and positive as her personality. The urge behind starting a YouTube channel was to create positive yet helpful content to make you all feel rejuvenated. From daily vlogs to detailed wellness sessions, Chelsea is ready to spread positivity. You can also accompany her throughout the day and have a look at her student life as well. All the students out there Chelsea has definitely got something you can relate to. So what are you waiting for? Go subscribe now!
Let's get back to nature and solace with Steph's YouTube channel "Moss and Mirth". Her love for plants and nature urged her to take you along in this soothing journey. You are going to see a lot of plants and gardening content here. Not just managing houseplants, Steph is also a very talented macramé artist. You can learn and decorate your house with beautifully hand-woven macramé articles. Continuing down the road, you are also going to see some handmade clay accessories as well. This perfect blend of nature and art is just a click away, SUBSCRIBE NOW!
Youtube     |       Instagram      |      Pinterest     |     Website
If food gives you happiness by not just eating but also cooking then Ally Saw's YouTube channel is the best for you. Based in Canada, Ally is a trained cake baker and decorator. Not just learning the classic cake recipes but experimenting and developing new recipes is what she's best at. She also loves sharing her journey of discovering and pursuing her talent in baking. Apart from baking she also uploads daily life vlogs to keep you guys updated. Become a part of her bakers' family by subscribing to her channel now!
Youtube     |       Instagram      |      Twitter     |     Website
A complete package of skincare, fashion, and beauty, Larissa's YouTube channel is a must-watch. Being a happy soul, she loves radiating this energy into everyone's life through YouTube. Beginning from the basic fashion and beauty-related videos, Larissa's channel has slowly evolved into her live album. Larissa's family especially her husband has been a major support throughout this journey. Vlogging her day and sharing the tiny little details of her life is what she loves to do. Do not miss out on this beautiful little YouTube family, Go Follow Now!
A young mom and a talented YouTuber, Nicole has all that takes to create perfect YouTube content. Not letting hindrances come in the way of her passion, depicts her strong dedication. Nicole's husband and a cute little son are the ones around whom her life revolves. Other day-to-day vlogs her content is mostly into skincare and fashion niches. Her honest product reviews are one of those videos you can surely look forward to. Doing so much in life makes Nicole a true inspiration for all the young girls out there. To subscribe to Nicole's YouTube channel click on the link now!
The ever so lively, Juliezeneth wants to share her life and experiences with you all through her YouTube channel. She's a young girl with lots of things happening in her life. And sharing all these experiences with you all is exactly what she does. Vlogging her day and sharing those little moments of joy or sorrow with anyone who can relate to is the aim behind her channel. She quite often shifts from vlogging to a completely different niche of skincare. You would not want to miss out on her 100% honest reviews. All this and much more is just a click away!
Youtube     |       Instagram      |      Pinterest     |     Website
The energetic and workaholic, Alex is ready to take you on a journey leading to a productive and healthier life. She aims to inspire all of you to go get your dreams fulfilled without any time being wasted. Working two jobs without getting tired or bored is just her forte. Making videos with her boyfriend and sharing their routine is just what she loves. While providing you a detox time through her content, at the same time she urges everyone to go achieve their goals no matter what it takes. If you are lacking that motivation in life, go check out Alex's YouTube channel now!
Tiffany, a young and determined girl ready to take you on a journey of exploring fascinating places. Her love of traveling and trying out new things inspired her to start her very own Tiffany Wu YouTube channel. Trying out new skincare products and reviewing them for you guys is what she does best. From jewelry to makeup, it's a stop shop for all the fashion lovers out there. Another very important part of her channel is her love for food. Nothing is more satisfying than trying something for the first time and it turning out surprisingly delicious. All this and much more is just a click away. Go Checkout Now!
From doing YouTube just as a hobby to pursuing her passion, Rachel has come a long way. Her YouTube channel clearly shows her dedication towards what she's best at—Makeup. Rachel's love for makeup makes her unique in her own way. She loves playing with colors and trying out new and trendy looks. After all the glitz and glamour she also creates skincare content. Her wise choice of products makes them credible enough for you to try out those products as well. Go check out her channel now!
From insomnia to living with PCOS, Dr. Shelley Meyer knows how to help you deal with anything. No matter which battle you are fighting, Dr. Shelley is here to help you smoothen your journey. Not just the solution to your problem but also she gives a deep insight into the factors that are leading your health downhill. Being a certified doctor herself, Shelley aims to bring people towards healthy living. Her goal is to elicit that self-realization within each one of you to live and enjoy a healthy life. If you are also going through some health issues that need to be addressed then go check out Dr. Shelley's YouTube channel, waiting for you to come and subscribe!
Youtube     |       Instagram      |      Facebook     |     Blog
Ashley Phillip's YouTube channel is truly a World of Skincare. From serums to essential oils to perfumes, she has reviewed almost every product you have been looking for. It sometimes takes weeks to personally try a product and then recommend it to you guys. But she's always ready to do anything that it takes. Her only priority is creating genuine and informative content related to skincare and makeup. It only takes a click to subscribe to such amazing content!